ABOUT US
Here at Caribbean Coatings we have Decades of Experience dealing with unique install conditions, tricky substrates, harsh environments, tight timelines, and bad weather. We have the knowledge and the right materials to Make Life Easier for our Customers.
Caribbean Coatings, LLC is a Manufacturers Representative of High Quality Protective Coatings. We provide environmentally responsible protection for buildings, equipment, infrastructure, marine structures, waste water, potable water containment, and more.
With our Vast National and International Network of manufacturer qualified contractors  We Deliver On-Time and On-Budget Practical Solutions from common waterproofing and protection issues faced by facilities and municipalities. Our Highly Skilled Technical Representatives support your application with on-site visits* job site reports, and a positive, "Can Do" attitude.

STEVE RICE
GENERAL MANAGER
Technical Consultant located in Tampa Bay, Florida. Nationally recognized within the Spray Foam Roofing and Polyurea Coatings Industries. Over 40 years of providing economical competent & sustainable site-specific solutions on-time and within budget. Providing technology and application support to contractors, consultants, developers, facilities managers, asset managers, US Military, and property owners in multiple region-specific environments. Providing no-nonsense solution options to your assets' unique issues. High premium on providing preemptive technical support.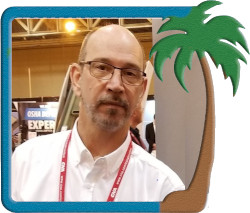 STEVE WILLIAMS
TECHNICAL DIRECTOR
Technical Director with an extraordinarily successful background in formulation development, quality control, quality control methods, innovative formulations using the newest components available including 4th generation blowing agents and solely responsible for obtaining all industry required approvals and credentials worldwide for sale and use of products.
Highly knowledgeable in the requirements and procedures of UL, FM, Dade County, Florida building codes, California based approvals, CRRC, TWIA, CCMC, European CE credentials, REACH and EOTA as well as CITAC, SINTEF, BBA, KIWA, JIS Code Mark, CSTB and NSAI plus the new approvals systems in South Africa and the Middle East including Dubai. Developed strong in-house and in-field training programs for applicators as well as health and safety programs, which are provided to customers to ensure full understanding and safe application of the products provided for their application and clients.

JOSHUA RICE
VP TECH SERVICES
Manufacturer Authorized and currently representing several Major Manufacturers in the capacities of Technical Assistance, Quality Assurance Adviser, Chemicals & Related Equipment Sales.
SITE-SPECIFIC SPECIFICATIONS-TECH SERVICES ONSITE ON-THE-JOB SUPPORT EQUIPMENT AND APPLICATION TRAINING

LUIS RAZZETTI
VP INTERNATIONAL SALES
Technical Assistance, Quality Assurance Adviser, Chemicals & Related Equipment Sales. MATERIALS SITE-SPECIFIC SPECIFICATIONS-TECH SERVICES-ONSITE SUPPORT & TRAINING Specialty Coatings and maintenance coatings for Metal Roofs and various membranes. Spray Polyurethane Foam Roofing & Insulation Systems. Polyurea Specialty Coatings-Rapid Cure, Potable Water & Containment Solutions. Spray Equipment – PARTS-TROUBLESHOOTING & ON-THE-JOB SUPPORT & TRAINING. Multi-lingual English, Italian, Spanish & Portuguese.

CAREY RICE
EXECUTIVE ASSISTANT

Carey has over 20 years of experience in an administrative/office management role. She remains focused on maintaining a positive work environment to keep the office running efficiently and productively.